So, you've been thinking about listing your products on Malyy, eh? We don't blame you. There are SO MANY benefits to listing with us that you'll never get when you list on places like Etsy or Amazon. Take a gander at some of our most frequently asked questions to find out just how awesome we are to partner with!
What exactly is The Malyy Collective?
We are so glad you asked! The Malyy Collective is an ecommerce platform created to empower the maker movement, handmade craftsmanship, and to support local, Manitoban small business. It is designed to take the experience and quality we have come to expect of our major local markets, and transition that experience to an online space for our customers. We do not want to replace markets, but rather supplement them by making our local vendors available to their customers anytime.
Why choose The Malyy Collective?
This is a no brainer. The Malyy Collective provides our local makers an online platform created here in Manitoba, with Manitobans in mind. Unlike sites such as Amazon or Etsy, your customers don't need to sift through the tens of thousands of 'shops' to find you. By showcasing our local maker movement and their products, The Malyy Collective strives to bring conscious and ethical spending back into our local community and our economy.
We here at Malyy believe that the quality of our craftsmanship is not only a reflection on ourselves and our business, but of our community as well. It is important that we uphold a standard of quality that makes us proud to be Manitobans. To do this, an application process is in place to ensure the products offered to your customers meet the standard of The Malyy Collective.
We also want to emphasize the customer/maker relationship. To do this, we will be offering local customers the opportunity to pick up their products at local pick up points. Not only does this give your customers the chance to worship you in person (because let's be honest, if you're here, you're awesome), but also allows you to skip the hassle and headache of shipping!
What makes The Malyy Collective different?
The Malyy Collective takes all of the perks of different sales channels and brings them all into one place. The social media attention of an influencer, the sales platform of an online marketplace (think Etsy), and finally, the connection to your local community without physically getting your products to market. One place, one purchase.

Well obviously, this has to have a cost, right?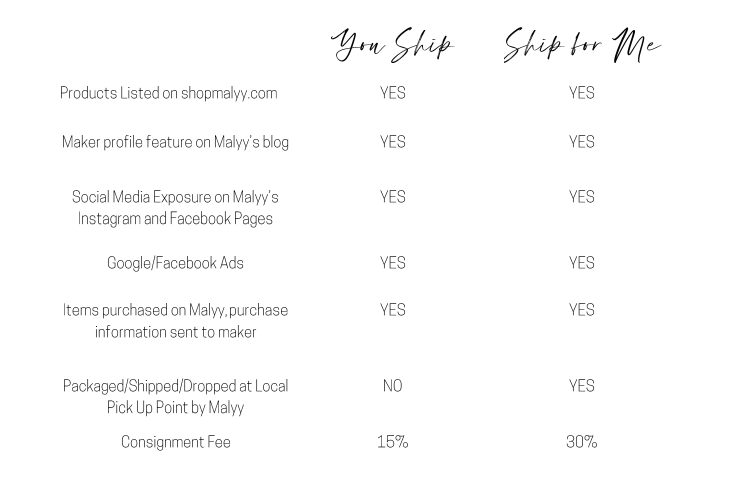 Yes, there is a price to pay to be a part of The Malyy Collective. Unlike sites such as Etsy and Amazon, there are no monthly/yearly subscription fees. There are no listing fees. So how do you pay?

We have structured The Malyy Collective as an online consignment space. Instead of paying a bunch of fees upfront, you only pay once your product has actually sold. But unlike traditional brick and mortar consignment opportunities, you decide how much you pay.

Malyy Collective is proud to provide two options to our makers. The first option, You Ship, gives makers the opportunity to control the delivery of their product. Malyy does all the front end work of getting your product in front of your customer, and makes it available for purchase on our site. Once it is purchased, we send you all the details: which item sold, who to, their shipping or pick up preference and information. You send it out, and the commission rate is 15% of your sale.

The second option, Ship For Me, is more along the lines of a traditional brick and mortar consignment. You drop off the products you'd like listed to one of our pick up locations, and Malyy will not only make your products available and get it in front of your customer virtually, but once it's sold, we also cover the leg work of shipping your product for you as well! This option will cost you a 30% commission, but for minimal work on your end.

Right?! We know that this has the potential to supplement the local economy and add that one missing link your customers are craving. A locally operated online platform that helps them easily navigate their favourite local makers. All in one place. All in one purchase.

Thank you for applying to Malyy Collective! We will review your application and get back to you!